Initial Option/Acquisition
In December 2004, Majestic Gold entered into a final joint venture agreement with Shandong Yantai Muping Gold Mine on 13 licenses on the Jiaodong Peninsula in Shandong Province, China. The agreement required Majestic to commit to exploration expenditures of US$4.2 million over four years in order to earn a 60% interest in the licenses.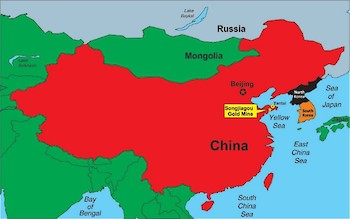 These licenses included a 120 tonne per day mining and milling operation on the Songjiagou license where ore was being extracted from the lower two of four levels of underground workings. At the time of the agreement, over 4,900 metres of underground tunneling existed to depths of 268 metres below surface.
Geology
Majestic's mining licenses are located in proximity to three major northeast-southwest trending faults and are underlain by both Archean and Proterozoic basement and granite intrusions reminiscent of some of the world's largest gold producing camps. The deposits of the Jiaodong Peninsula form one of the largest provinces of granitoid-hosted lode-gold deposits in the world and host some of China's largest gold producers.
Gold occurrences on the Jiaodong Peninsula are of vein-type as well as disseminated and stockwork styles. The veins typically occur within second and third-order faults cutting Mesozoic granitoids and are relatively continuous, measuring from a few centimeters to several meters in thickness by as much as five kilometers in strike. The stockworks occur along regional faults and are surrounded by broad alteration halos. The vein type mineralization is described as mesothermal; the disseminated and stockwork style have some aspects of epithermal mineralization but are both spatially and genetically associated with the vein-type mineralization. The Songjiagou gold mine is a moderate temperature hydrothermal filling and metasomatic conglomerate type gold deposit with no clear boundary between wall rocks and ore. As a result, assay analysis is required to determine ore grades before mining is undertaken.
Exploration History
Early stage exploration was conducted on the Songjiagou property in the 1960s by various Chinese government agencies and departments. Exploration work included geological, geochemical, geophysical and drilling programs throughout an area of geological interest.
At the time of the cooperation agreement, mining activities were taking place on two of the licenses and gold was being extracted from quartz veins and from sulphide-rich shears formed in conglomerate rocks. Grades in the veins ranged from 5 to 9 grams per tonne and averaged 3 to 5 grams in the sulphide-rich shear zones.
Majestic's initial exploration work included geochemical sampling of existing underground workings on the Songjiaguo license in order to facilitate the evaluation of the host conglomerate for bulk mineable potential. Channel samples from two sub-parallel drifts located approximately 258 meters below surface indicated that the gold mineralization permeates out from the higher grade structures, forming halos around them within the host conglomerate sequence.
In addition, sampling of two sub-parallel cross-cuts 218 metres below surface and 40 metres above level four also provided an opportunity to evaluate the bulk mineable potential. In mid-2005, Majestic initiated a major drill program at Songjiagou which supported the preparation of an independent resource report by Wardrop Engineering in April 2006. Bulk sampling commenced in late 2007 at Songjiagou.
Songjiagou Mine Development
In February 2010, Majestic entered into an agreement with seven Chinese investors who agreed to acquire a 40% interest in the joint venture company holding the exploration permit and license for the Songjiagou mineral property. The intent of the agreement was to facilitate commencement of mining operations at Songjiagou on a larger scale than previously envisioned. In addition, the agreement called for Dahedong Smelter Mill, owner of the 200 tonne and 1200 tonne per day milling operations, related buildings, mining machinery and equipment, to construct a new mill with a minimum processing capacity of 5,000 tonnes per day at their expense, handle all mining and transportation of ore and mine tailings, and deal with Chinese authorities concerning ongoing operations.
As compensation for the use of Dahedong's mining assets and equipment during the mining term Dahedong acquired the right to earn 25% of the net profits of the joint ownership company along with a fixed amount per tonne for mining, transporting and processing services required to produce a gold concentrate suitable for delivery to a refinery or smelter.
Following the receipt of a positive economic assessment (PEA) in January 2011, construction work on the processing plant and related facilities commenced and plant commissioning was under way by the end of April. The plant achieved full operational capacity in 2012 at a total cost of $US50 million.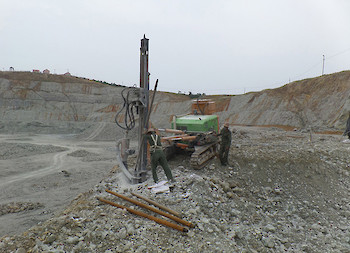 Mine and Milling Operations
Mining activities have been outsourced to Yantai Dahedong Processing Co. Ltd. which also supplies its own mining equipment. Road development and truck transport are adapted to transport ore from the open pit to processing plants approximately 4 km away. The mining sequence includes large diameter hole boring, blasting, secondary crushing and loading and transport. Waste benches are 10 m high and ore benches are 5 m high. Benches are combined in pairs for mining so the final bench height reaches 10 m with an overall pit slope of 48 degrees.
From 2008 to 2012, a total of 2.8 million tonnes of material grading 0.30 g/t were produced from the open pit and processed through the 6,000 tonne and 1,200 tonne per day process plants with gold recoveries averaging 83.44%.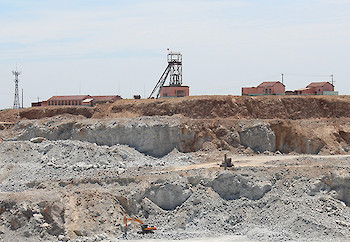 There are three fully operational processing plants at Songjiagou. Two plants with a processing capacity of 200 tpd and 1,200 tpd respectively commenced operations in 2006. Another plant with a capacity of 6,000 tpd was put into production in May 2011, bringing the aggregate processing capacity at Songjiagou to 7,400 tpd. (In the past the 200 tpd processing plant has been used exclusively for underground feed while the other two plants are fed with mining inventory from open pit mining).
The Songjiagou processing plant includes conventional three stage crushing within a closed circuit, grinding within a closed circuit, and flotation consisting of one stage of roughing, one stage of cleaning and two stages of scavenging.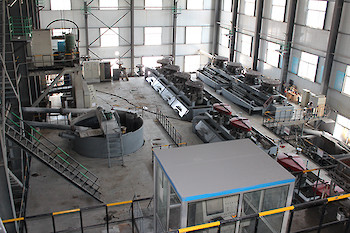 Songjiagou Mine Resource Estimate
NI 43-101 Compliant Resource Estimate Within Optimized Open Pit (January, 2013)
Category
Tonnes
Grade Au (g/t)
Ounces Au
Open Pit (cut-off 0.30 g/t Au)
Indicated
26,600,000
1.40
1,197,427
Inferred
23,400,000
1.45
1,090,996
Underground (cut-off 0.80 g/t Au)
Inferred
5,600,000
2.56
460,964
The resource estimate is categorized as Indicated and Inferred as defined by the CIM guidelines for resource reporting. Mineral resources do not demonstrate economic viability, and there is no certainty that these mineral resources will be converted into mineable reserves once economic considerations are applied. The Indicated and Inferred mineral resource estimate has been prepared in compliance with the standards of NI 43 – 101 by Anshun Xu, Ph.D., F AussIMM.
Qualified Person
Scientific and technical information contained herein has been reviewed and approved by Stephen Kenwood, P. Geo and is a Director and Officer of Majestic Gold Corp. and is a "qualified person" as defined by National Instrument 43-101 - Standards of Disclosure for Mineral Projects ("NI 43-101")