Initial Option/Acquisition
In July 2004, Majestic Gold entered into a joint venture agreement with Muping Gold Mine in respect to 13 licenses on the Jiaodong Peninsula in Shandong Province, China. The agreement required Majestic to commit to exploration expenditures of US$4.2 million over four years in order to earn a 60% interest in the licenses. Subsequently, Majestic increased its investment in the joint venture and on December 24, 2012, the company through its subsidiary held a 75% interest in the joint venture.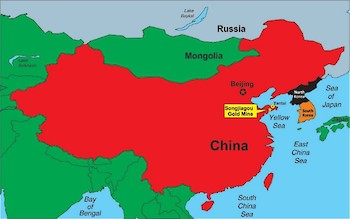 These licenses included a 200 tonne-per-day mining and milling operation on the Songjiagou license where ore was being extracted from the lower two of four levels of underground workings. At the time of the agreement, over 4,900 metres of underground tunneling existed to depths of 268 metres below surface.
Geology
Majestic's mining licenses are located in proximity to three major northeast-southwest trending faults and are underlain by both Archean and Proterozoic basement and granite intrusions reminiscent of some of the world's largest gold producing camps. The deposits of the Jiaodong Peninsula form one of the largest provinces of granitoid-hosted lode-gold deposits in the world and host some of China's largest gold producers.
Gold occurrences on the Jiaodong Peninsula are vein-type as well as disseminated and stockwork styles. The veins typically occur within second and third-order faults cutting Mesozoic granitoids and are relatively continuous, measuring from a few centimeters to several meters in thickness - and by as much as five kilometers in strike. The stockworks occur along regional faults and are surrounded by broad alteration halos. The vein-type mineralization is described as mesothermal while the disseminated and stockwork styles have some aspects of epithermal gold mineralization but are both spatially and genetically associated with the vein-type mineralization. The Songjiagou gold mine is a moderate temperature hydrothermal filling and metasomatic conglomerate-type gold deposit with no clear boundary between wall rocks and ore. As a result, assay analysis is required to determine ore grades before mining is undertaken.
Exploration History
Early stage exploration was conducted on the Songjiagou property in the 1960s by various Chinese government agencies and departments. Exploration work included geological, geochemical, geophysical and drilling programs throughout an area of geological interest.
At the time of the cooperation agreement, mining activity was taking place on one license and gold was being extracted from quartz veins and from sulphide-rich shears formed in conglomerate rocks. Grades in the veins ranged from 5 to 9 grams per tonne and averaged 3 to 5 grams in the sulphide-rich shear zones.
Majestic's initial exploration work included geochemical sampling of existing underground workings on the Songjiaguo license in order to facilitate the evaluation of the host conglomerate for bulk mineable potential. Channel samples from two sub-parallel drifts located approximately 258 meters below surface indicated that the gold mineralization permeates out from the higher grade structures, forming halos around them within the host conglomerate sequence.
In addition, sampling of two sub-parallel cross-cuts 218 metres below surface and 40 metres above level four also provided an opportunity to evaluate the bulk mineable potential. In mid-2005, Majestic initiated a major drill program at Songjiagou which supported the preparation of an independent resource report by Wardrop Engineering in April 2006. Bulk sampling commenced in late 2007 at Songjiagou.
Songjiagou Open Pit Mine
The first mining license for the Songjiagou mine was issued on May 12, 2006 and was renewed on April 13, 2009. The mining license was transferred to the joint venture on August 2, 2010. In 2015, the joint venture applied to extend the area of the mining license from 0.3412 km2 to 0.5937 km2. The new mining license with the mining area of 0.5937 km2 was granted on May 17, 2015 and renewed till May 17, 2031.
Following the receipt of a positive economic assessment (PEA) in January 2011, construction work on a 6,000 tonne-per-day processing plant and related facilities commenced and plant commissioning was underway by the end of April. The plant achieved full operational capacity in 2012 at a total cost of $US50 million.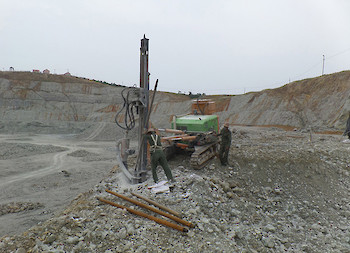 Road development and truck transport are adapted to transport ore from the open pit to processing plants approximately four kilometres away. The mining sequence includes: large diameter hole boring, blasting, secondary crushing in addition to loading and transport. Waste benches are 10 metres high and ore benches are 5 metres high. Benches are combined in pairs for mining so the final bench height reaches 10 metres with an overall pit slope of 48 degrees. Currently, the joint venture has two processing plants with a total capacity 7,200 tonnes-per-day.
Songjiagou Underground Gold Mine
The Songjiagou underground mine is situated approximately 405 metres northeast of the company's existing open pit operation. The Songjiagou underground mining license was issued on February 18, 2016 and renewed till February 18, 2031. The construction of the underground mine and installation of all ancillary infrastructure was completed in early 2019.
The ramp is sized to facilitate the use of trackless mining equipment including ore haulage to the surface process plant. The ramp was collared at an elevation of 80 meters a.s.l (above sea level) and is designed to achieve a total length of 2,075 meters in the first phase of development.
Construction work on the underground project was designed to achieve a rated production capacity of 300 tonnes of ore per day on a sustained basis. Development work is ongoing to ensure the maintenance of that production rate which includes accessing new work areas within the company's defined resource base. Ore from the underground mine is approximately four times (2.4 g/t gold) the grade of the open pit and is batch-processed in the company's surface plant to optimize metal recoveries.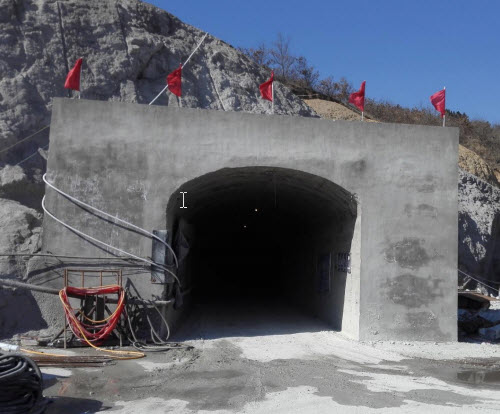 Previous exploration work by the No. 3 Brigade immediately north of the open pit outlined at least 12 discrete gold-rich vein structures that represent a continuation of mineralization that is presently being mined in the open pit. The structures follow the general regional trend, striking north-easterly at about 040 degrees, with dips ranging from 30-65 degrees to the southeast. Gold-dominant mineralization remains open along strike and at depth in many of the vein structures explored by the No. 3 Brigade.
Underground mining operations are highly mechanized and include high efficiency, rapid-penetrating, hydraulic jumbo drills for development work, rotary drilling equipment employing extension steel for inclined medium and longer holes, 20 tonne dump trucks for ore haulage to surface via the ramp, and electric scrapers to facilitate ore recovery and loading in work areas.
The company employs a mix of mining methods which are based on mining and geological conditions that are expected to be quite variable. Where warranted by ground conditions, mined out areas will be backfilled with tailings which - in addition to providing good ground support - reduces output into the surface tailings disposal area.
Ore blocks are typically 50-60 metres in length, with the thickness of the ore blocks determined by mining to an assayed rock face at a specific cutoff grade. One of the more common mining methods employed at Songjiagou is shrinkage stope mining whereby one third of the broken ore is drawn from the stope following blasting. The "swell factor" (broken ore expands by about one third when it's blasted) allows miners to work from a solid floor to facilitate ongoing mining
Ventilation is provided by high capacity axial fans through air ducts secured by hangers on the side of mine passageways, while compressed air and water are introduced to the mine through metal pipes sized to accommodate fluctuating demand. Pumping stations have been installed underground to deal with water inflows - which are common in most underground mines – and the lifting system for the service shaft utilizes a multi-rope friction hoist with dual cages for transporting miners and their gear.
The company takes safety very seriously at Songjiagou and has training programs in place for mining and support workers. In addition, a ground control system has been implemented which utilizes rock and cable bolts, shotcrete (a mixture of cement and metal fibres - sometimes used with mesh screening) and other proven support systems that are designed for specific ground conditions.
For additional images of the Songjiagou underground mine please refer to our Picture Library at: https://majesticgold.com/projects/picture-library/
Processing plants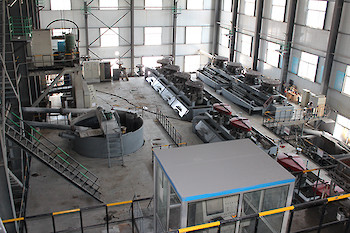 There are two fully operational processing plants at Songjiagou. One plant with a processing capacity of 1,200 tonnes-per-day commenced operation in 2006. Another plant with a capacity of 6,000 tonnes-per-day was put into production in May 2011, bringing the aggregate processing capacity at Songjiagou to 7,200 tonnes-per-day. The Songjiagou processing plant includes conventional three-stage crushing within a closed circuit, grinding within a closed circuit, and flotation consisting of one stage of roughing, one stage of cleaning and two stages of scavenging.
Songjiagou Mine Resource Estimate
NI 43-101 Compliant Resource Estimate Within Optimized Open Pit (January, 2013)
Category
Tonnes
Grade Au (g/t)
Ounces Au
Open Pit (cut-off 0.30 g/t Au)
Indicated
26,600,000
1.40
1,197,427
Inferred
23,400,000
1.45
1,090,996
Underground (cut-off 0.80 g/t Au)
Inferred
5,600,000
2.56
460,964
The resource estimate is categorized as Indicated and Inferred as defined by the CIM guidelines for resource reporting. Mineral resources do not demonstrate economic viability, and there is no certainty that these mineral resources will be converted into mineable reserves once economic considerations are applied. The Indicated and Inferred mineral resource estimate has been prepared in compliance with the standards of NI 43 – 101 by Anshun Xu, Ph.D., F AussIMM.
Songjiagou Apartment Complex for Nearby Villagers
In 2019, Majestic completed construction work on the residential complex near the company's Songjiagou gold mining operation. The residential complex was constructed to facilitate the relocation of two villages situated in close proximity to the active Songjiagou open pit mine. The complex is comprised of six buildings with sufficient capacity for up to 280 families who, after relinquishing their village leases, will retain access to their farmland in return for a 75-year condominium lease.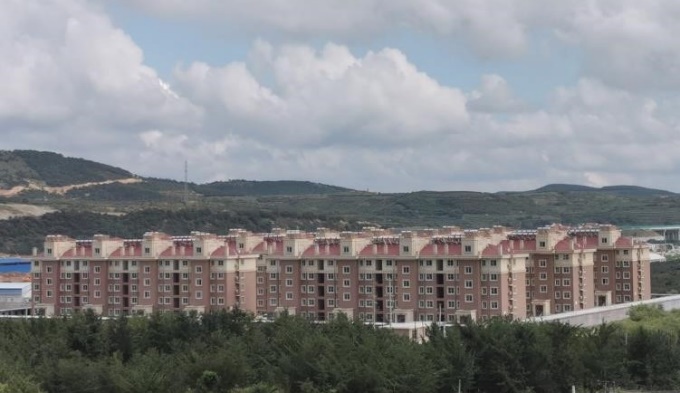 The construction program was completed under budget at $US14.4 million and includes six five-story buildings aggregating 19,944 square metres in total. Each residential building includes four living units on each level averaging approximately 80 square metres each.
The modern five story frame buildings are constructed with load-bearing beams and columns made from reinforced concrete, with precast hollow concrete and other lightweight materials utilized for partition walls.
The fully-serviced buildings include appliances, central heating, recreation rooms, child playgrounds and other modern amenities including elevators, air conditioning and parking lots. Each household is equipped with a garage on the ground floor of the residential building in addition to a 10 square metre storage room. All construction was completed in accordance with national standards and approved following inspection by competent government authorities.
Qualified Person
Scientific and technical information contained herein has been reviewed and approved by Stephen Kenwood, P. Geo and is a Director and Officer of Majestic Gold Corp. and is a "qualified person" as defined by National Instrument 43-101 - Standards of Disclosure for Mineral Projects ("NI 43-101").